Body
Phase 1A and Phase 1B is in progress.
Learn more about the activities that will be accomplished on these phases of the HRIS Modernization Project.
Phase 1A | Core Human Resources 
The first phase of the project initially focuses on planning the project management. This phase also involves configuring and developing the core components of the Human Resources Maintenance, Management, and Security workflows before deploying the system. 
There are three parts to the first phase of this project, which are described below: 
1 ALIGN
During the Align phase, the Project team develops work plans. The Security Management, Data Conversion, and Interface Plans are developed by the Technical Team. The Change Management and Training Plan are developed by the Change Management Team. The Functional team works with the State subject matter experts (SMEs) to design the new business processes with a focus on the user experience. The new business processes are developed for each of the following functional areas:
Position Control 

Personnel Management 

Benefits 

Deductions (includes garnishments)

Time and Leave Management 

Payroll 

Payroll Accounting Management

Employee/Manager Roles

 
2 CONFIGURE AND DEVELOP
During the Configure and Develop phase, the Project Team configures the new system to accommodate the new business processes. The new processes are tested, training materials are developed, and users are trained. Technical readiness is assessed and mock conversions are performed. Training materials are created, power users are trained, and agency readiness assessments are completed to confirm agencies are ready for the deployment of the new system.
3  ACHIEVE
Final preparations are completed to ensure overall success when the new system goes live. Cutover is accomplished and post-implementation support is initiated. Phase 1A is planned to go live in the Fall of 2024.
Phase 1A  | Timeline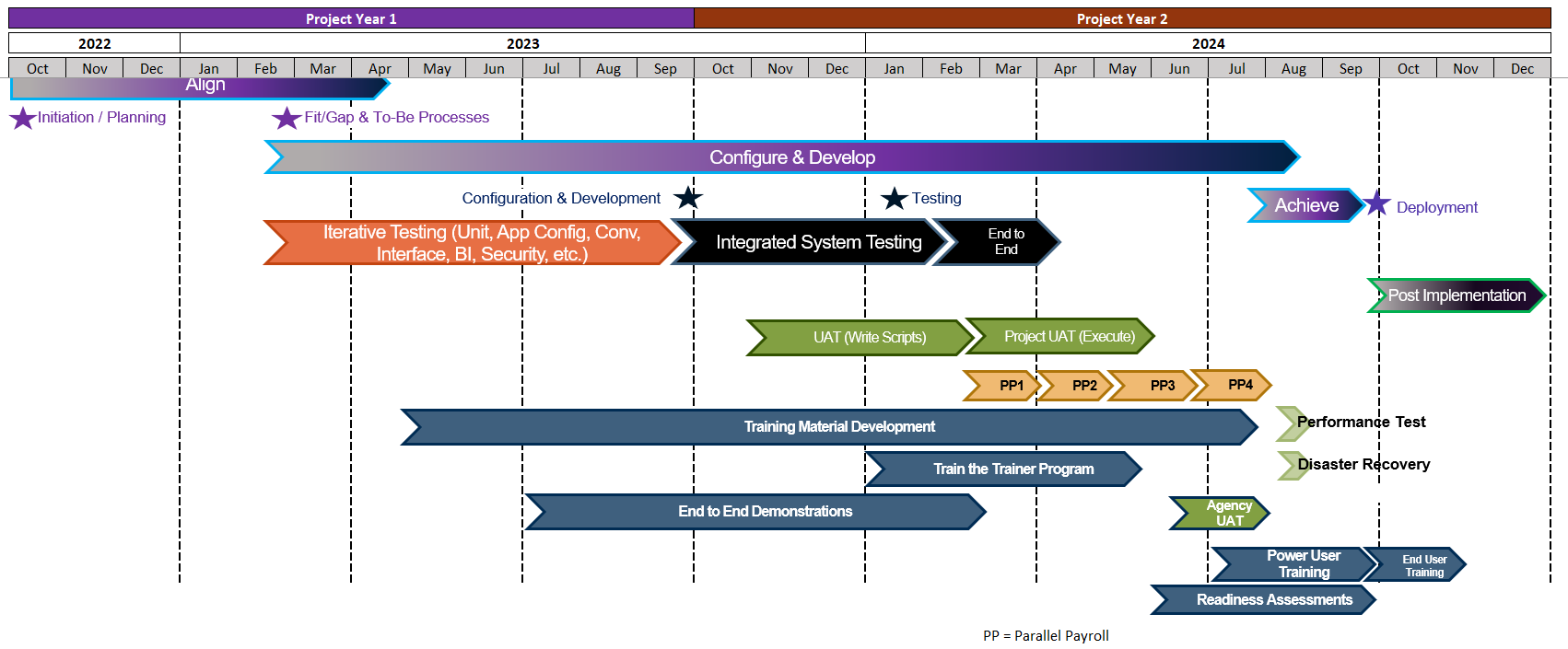 Phase 1B | Talent Management
The next phase of the project focuses exclusively on Talent Management and consists of the following functional areas:
Acquisition

Employee Relations

Learning & Development

Performance Management

Recruitment

Skills Management

Succession Planning
Phase 1B | Timeline